Cheap Family Vacations
by Lise - an avid cruiser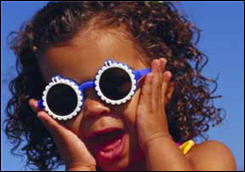 Looking for cheap family vacations? Let me tell you about cruises and you'll see why they are at the top of my list of best family vacation ideas.
Our daughter has been coming with us on a cruise almost every year since she was 7 years old. She got married in August 2009 and guess where she went on her honeymoon? Well yes of course, a cruise!
Cruises appeal to everyone, no matter what age you are.
Did you know that more families are deciding to cruise than any other group?
Why are cruises cheap family vacations?
Meals, transportation, lodging, entertainment and shipboard activities are all included in the price
3rd and 4th person (child or adult) pay less
You can book your flight with the cruise line which could be cheaper
You can figure out your budget easily since a big chunk of the trip is already paid
You can book your own excursion with local tour operators and save money
You don't have to spend money to keep your kids entertained on the ship
On some cruise lines, you and your family can go to the movies, see a show, try rock climbing, play a game of golf, do some iceskating, all for FREE
Not sure yet? Other than being cheap family vacations, cruises also offer a ton of added benefits, such as...
Pack and unpack only once (read our tips about what to pack for a cruise)
You'll never hear "Are we there yet?"
The scenery is always changing
The ship in itself is a destination to discover
The kids have their own activities at the kid's program and even often their own pool
The teenagers have their own space and program as well
The kids will love the freedom the ship provides
The parents will love their new freedom as well
No cooking or cleaning to worry about
Visiting different islands
Enjoying different beaches
Experiencing different local cultures and activities
Activities for everyone
Cruises can really be cheap family vacations, because there's something to please every generation and most of it is FREE. And everyone will regroup at night for meals and compare notes on the day's adventures.
Grandma went to a cooking class and then her and Grandpa took a ballroom dancing class. Mom had a massage at the spa and relaxed on deck with a good book. Dad played a game of basketball. Teenage daughter was watching a movie with her new group of friends and the youngest had a great time on a scavenger hunt organized by the youth program.
Kids
Organized children's programs run by trained youth counselors will keep the younger ones busy with games and fun with others their own age. They are divided into age groups and the activities are chosen for them.
You'll see and hear their excitement when you pick them up at the center.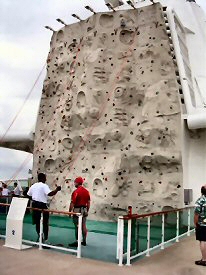 Rock Climbing aboard a cruise ship
Teenagers
Oh yeah! They also have a place of their own, with music they love, and different activities that could include the disco, movies, dinners without the adults!
Cruises are all about doing what you want to do, when you want to do it.
On today's cruises, families can enjoy a gourmet meal or go on a shore excursion together, yet still find private time on the ship.
Now that you know that cruises are cheap family vacations, check out our recommendations for the best family cruise.
And if you're looking for family reunion ideas, find out if you qualify for a FREE cruise!
Spruce up your Disney Vacation Packages with a Cruise
Check out other Great Vacation Ideas and Travel Destinations
Return from Cheap Family Vacations to Caribbean Cruises Home