The Four Best Aruba Beaches
Most Aruba beaches are along the West coast, north from its capital Oranjestad. Click on the interactive map of Aruba to view them. Oranjestad is where it says "Seaport Marketplace".
We have used all 3 forms of transportation during our vacation in Aruba: taxi, a rented jeep and yes even the bus which turned out to be the easiest, the cheapest and the most enjoyable. It only cost $2.00 per person roundtrip, as opposed to $18.00 each way by taxi!
A tip for divers: the largest shipwreck in the Caribbean, the Antilla, waits to be epxlored just off Malmok Beach, not too far from shore. Just be aware that you won't be the only diver around - it's a very popular diving spot.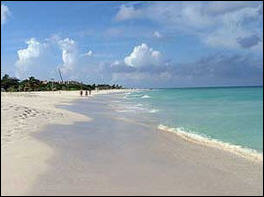 Eagle Beach
EAGLE BEACH
Voted one of the 10 best beaches in the world by Travel and Leisure magazine, Eagle beach is across the road from the "La Cabana Resort".
Watersports are offered by the hotels along the beach. It is clean and wide and you can walk for a long time as it is the longest of all the beaches of Aruba. Facilities are available at the hotels and there are shaded picnic areas. Palm trees and huts provide some shade.
Located in the 'lowrise hotels' area, it is about 10 minutes by taxi which would cost $10.00 each way per taxi (not per person). It is wider, less crowded than Palm Beach but the surf is not as calm as Palm Beach. We'll have to visit this beach on our next trip and see for ourselves.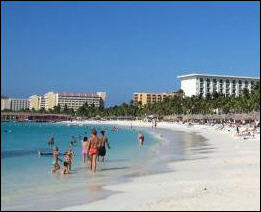 Palm Beach
PALM BEACH
Palm Beach is probably the most popular of all the Aruba beaches, with palm trees (I guess that's where the name came from!) swaying in the wind and powder-like sand.
It is in front of the 'highrise hotels' area further from Eagle Beach. Excellent facilities for watersports such as scuba diving, banana-boat rides, swimming.
Parasailing is also available on this beach. $10.00 each way by taxi.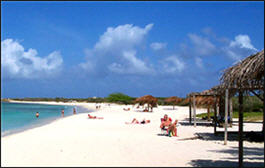 Arashi Beach
ARASHI BEACH
This is the beach we ended up going to on our last visit in December 2006.
We had rented a jeep and wanted to stop for some snorkeling while my daughter could relax with a book.
It is the most northern of the Aruba beaches, near the California Lighthouse. The sand is soooo nice and there were a few 'cabanas' for shade. Unfortunately for us they were all taken by a very big local family. Nevertheless, my daughter still found some shade under a divi-divi tree while we went snorkeling. The water is so calm and clear! However, there are no facilities.
This beach is about 20 minutes from the pier by taxi and would cost about $18.00 each way.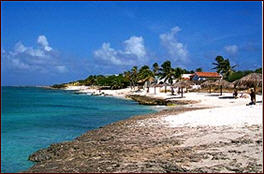 Malmok Beach
MALMOK BEACH / BOCA CATALINA
Absolutely the best beach for snorkeling in Aruba. It was a fluke that we found it years ago.
We had decided to take the bus and ask our driver which beach to go to for snorkeling. He gave us the name of this one and when we got off the bus, we were kind of confused as this didn't look like any of the other beaches of Aruba!
It is very small with just a few 'palapas' and since it was early in the morning, we were the only ones there.
My husband and I were amazed that we discovered this snorkeling paradise, so please don't tell anyone as we don't want the word to get around!
The Antilla is sunk facing this beach but far enough that the tour operators bringing their groups won't bother you.
Enjoy panoramic views of the beaches of Aruba - it's almost like being there. Make sure to click the screen icon to view the images in full screen. The views are amazing and worth the wait to load.
Things to remember for your Aruba beach vacation...
Do not leave any valuables on the beach OR in your car, they might be stolen!
Take the bus to any of the beaches for a nice and cheap ride.
Eagle is the largest of the Aruba beaches and very calm.
Palm Beach might have construction going one - so check before going.
All beaches of Aruba are public.
For activities and water sports: Eagle and Palm beach.
The Amsterdam Manor on Eagle beach will rent their chairs for $3 pp for the day.
Snorkeling: Catalina, Malmok and Arashi Beach.
Baby Beach is on the other side, on a point but it is far, about 40 minutes by taxi and would be about $35.00 each way.
Hadicurari (Fisherman's Huts) has very shallow water and is excellent for windsurfing. It is the site of the annual HI-WINDS PRO-AM WINDSURFING COMPETITION.
Palm Beach is excellent for parasailing and jetskis.
Don't confuse Palm Beach and De Palm Island.





Return to Things to do in Aruba