Caribbean Cruise Weddings
by Lise - an avid cruiser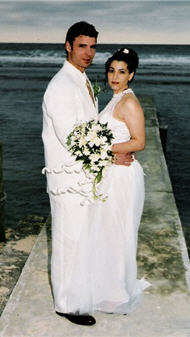 Caribbean cruise weddings offer you the best of both worlds: the ceremony on the sand by the ocean and the honeymoon on your cruise ship. Relax and let the experts organize it all.
All major cruise lines now have expert wedding coordinators on board to help you plan your wedding. From the license to your bouquet.. everything is available through the cruise line.
You can also find independant wedding coordinators who specialize in 'same day' packages and promise hassle free Caribbean cruise weddings. These arrangements might be cheaper than the ones offered by the Cruise Lines.
Wedding cruise packages, in both cases mentioned above, may vary but could include the ceremony, the services of the wedding coordinator, flowers, cake, champagne, photo album, music and a wedding certificate. Other services can be added to customize your wedding cruise package.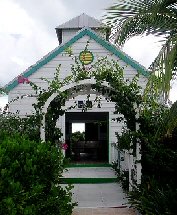 You even have the options of beautiful settings like a beach, gazebo, chapel, or resort.
Did you know that Holland America has a small, white chapel on their private island in the Caribbean (I took the picture on the left) that is used for cruise weddings and renewing wedding vows?
That's what I call a destination wedding!
Getting Married on board a cruise ship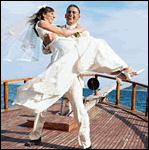 So, you convinced your future spouse that you want to get married on board a cruise ship.
Yes, you can see it in your mind...the captain all dressed up in his uniform and you all dressed up in your wedding attire.
You're on the deck and you can hear the waves against the bow of the ship...and you say: "I Do!" and it's the Love Boat all over again. (Oops! I just showed my age.)
Actually, Princess, the original Love Boat Cruise Line, is the first and only cruise line allowed to perform legal at-sea weddings, officiated by the ship's captain.
The Grand, Golden, Island, Coral and Star Princess are the only ships where you can get married on board a cruise ship while at sea. The ceremony is performed in a special wedding chapel named " Hearts and Minds" where a web cam broadcasts the wedding so that your friends and family can watch from anywhere in the world. Now that is cool.
Cruise weddings are possible on board a cruise ship of other Cruise Lines also, but the ceremony is performed while the ship is in port. It could be before the cruise begins or at some Caribbean ports like St Thomas or St John.
All you need to do is call the cruise line in-house wedding coordinators and they will handle everything: the ceremony, the menu, the cake, the flowers, the music. Everything, in fact, but the invitations.
Check out the Best Honeymoon Destinations