What to Pack for a Cruise
Not sure what to pack for a cruise? And how much formal cruise wear you might possibly need? Well I'm here to help you narrow it down.
Are you packing too much? Not enough? How many pieces of cruise formal wear do you need to bring? Have no fear, your packing list for a Caribbean cruise is here!
Formal attire is probably the most unknown factor you are wondering about. On a 7-day cruise, you will have 2 'formal' nights, 3 on a 10-day and 4 on a 14-day cruise.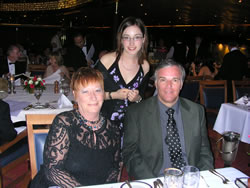 Here we are in our 'formal look'!
Now don't go panicking...What does formal cruise wear really mean anyway? I have seen everything under the sun at these formal nights. From long full of glitter attires to short very ordinary dresses; jacket and pants and tuxedos.
Pack for a cruise with outfits that are mix and match to save space. Yes even for your formal nights. All you need, for the ladies, is a 'party' dress or pant suit, and the dress doesn't have to be long at all. And for the men, a dark suit is fine. My husband never owned a tux and never will!
My cruise formal wear, which I have been using over and over, consist of:
a long 'slinky' black skirt
a 'slinky' pair of black pants
no-sleeve tops of any color (2 or 3)
a black or other color pashmina
a very small dressy purse
Be Practical: You don't need to spend your pay cheque on a formal dress either. When my daughter was 18, she needed a more grown up dress. So we went shopping and found her a gorgous one that was about $50.00 US and she still wears it at home for parties.
Click here for your printer friendly Packing List for Caribbean Cruise
The Rules
With post-9/11 airline regulations these have to go in your checked luggage:
nail file/clippers and scissors
tweezers/sewing kit
Also these rules now apply, according to TSA:
1. All liquids, gels and aerosols must be in three-ounce or smaller containers. Larger containers that are half-full or toothpaste tubes rolled up are not allowed. Each container must be three ounces or smaller.
2. All liquids, gels and aerosols must be placed in a single, quart-size, zip-top, clear plastic bag. Gallon size bags or bags that are not zip-top such as fold-over sandwich bags are not allowed. Each traveler can use only one, quart-size, zip-top, clear plastic bag.
3. Each traveler must remove their quart-sized plastic, zip-top bag from their carry-on and place it in a bin or on the conveyor belt for X-ray screening. X-raying separately will allow TSA security officers to more easily examine the declared items.
What To Pack For a Cruise
For All
toothbrush/toothpaste/mouthwash/floss
body and hand lotions
deodorant
sun screen
shampoo/conditioner/gel/hair spray (non-aerosol)
hair brushes and accessories
hair dryer/curling iron
folding bag
hat
Zip-Lock bags
jewelry
Prescription and OTC Medicines
Sea sickness patches
bandages/antiseptic cream
feminine hygiene products
extra glasses or contact lenses and supplies
camera/film/extra batteries
binoculars
MP3
Sunglasses
passport and travel documents
money and traveller's cheques
keys (home/car/luggage)
Sleepwear
nylons
underwears
sandals
dress shoes
t-shirts
flip flops
water shoes
socks
running shoes
swimsuits(at least 2)
jewelry
Belts
Thermal Insulated Mug or glass
Swiss Army Knife
Travel Clock
Notebook and Pen
Duct Tape
Small Flashlight and/or Night Light
Pack for a cruise - Specific to the Ladies
makeup kit you normally use
cotton balls/q-tips
nail polish/polish remover pads
hair dryer/curling iron
feminine hygiene products
nylons
bras
shorts
casual slacks
casual blouses/shirts
pareo/cover up
jewelry
purses (1 daytime/1 evening)
Pack for a cruise - Specific to men
Tuxedo or dark suit
Studs
Shirt(s)
Ties
Shoes and Socks
Sport Coat
Slacks
Polo/T-Shirts
Shorts
Swim wear (2)
Hat or baseball cap
Shaving Kit
Specific to babies
Benadryl (for seasickness or restlessness)
Pedia Care decongestant
Sun Block
Band Aids
Tylenol
Diaper rash ointment
Hat
Neosporin
water shoes
diapers
sipper cups
diaper wipes
hand/face wipes
bathing suits
sun glasses
bottled water
juice boxes
favorite blanket
toys
pacifiers
Click here to print your "Packing List For Caribbean Cruise"