Cool Caribbean Facts
My idea of Caribbean facts is not to list here each island, its currency, its capital, etc. like other websites have done... Boooring!
Wouldn't you like to know where the best beaches are? Or how to avoid the Caribbean hurricane season?
Sure you do...you'll find below some cool and interesting facts about the Caribbean. Want to know where all the islands are? Easy, check out our interactive map of the Caribbean islands.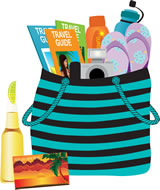 More ships cruise the Caribbean islands than any other region in the world


Only about 2 percent of the Caribbean's numerous islands are inhabited - I bet you didn't know this piece of Caribbean islands facts?


Antigua has 365 beaches, one for each day of the year


The largest barrier reef in the Western hemisphere is located within 10-40 miles of Belize mainland and is almost 185 miles long


Reefs in the Caribbean are 10-15 million years old, young compared to the Pacific ones which are 60-70 million years old


Grenada, known as the spice island, has more spices per square mile than any other place in the world


St Lucia is where you'll find the world's only "drive through volcano", and we were there!


Jamaica is the largest English-speaking island in the Caribbean and it has 120 rivers


The Boiling Lake in Dominica is the second largest boiling lake in the world, with temperatures that hover between 82 and 92C (180 and 197F)


The best snorkeling in Aruba was on Boca Catalina beach and in Cozumel at the Chankanaab Park
There's more...





For insider tips about all-inclusive caribbean vacations and cool promotions,
check out Caribbean-Cruise-Travel-Guide.com