Renewing Wedding Vows on a Cruise Ship
by Lise - an avid cruiser
What could be more romantic than renewing wedding vows while on a cruise with your better half?
What are your reasons? Is it to celebrate your 5-year, 10-year, 25-year etc. wedding anniversary?
Or is it to reaffirm your commitment to one another?
Or you might have other reasons, but whatever it is, a wedding vows renewal on a cruise will definitely be a romantic moment to remember.
It is not an official legal event like a wedding. The ceremony may involve just the two of you and the officiant, or it may be a group of couples as well. On some ships, it's the captain who will perform it on board.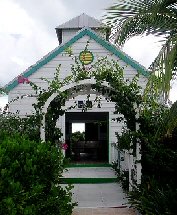 But it can also be done ashore. Best place I know of for renewing wedding vows is definitely Holland America's small bahamian chapel on Half Moon Cay, their Caribbean private island.
Each couple receives a photo in a souvenir frame. To arrange, you need to contact the guest relations manager at the front office once you are on board.
Just make sure that the ceremony is led by a non- denominational officiant, unless it's not an issue for you.
The packages offered by the different cruise lines can go from free to expensive, simple to elaborate.
Cruise Lines offering Wedding Vows Renewal
Carnival Cruise Line
Vow Renewal Ceremonies available.
Celebrity
Renewing wedding vows at sea where the captain serves as officiant.
Costa Cruise Line
Romantic Wedding Packages including renewal of vows packages available.
Crystal Cruises
Renewal of Vows at Sea packages available.
Disney Cruise Line
Offers packages to renew marriage vows.
Holland America
You can renew wedding vows in their bahamian chapel on Half Moon Cay, their Caribbean private island.
Norwegian Cruise Line
Packages available.
Princess
Packages available.
Regent Seven Seas
Regent Romance includes vow renewal packages.
Royal Caribbean
Vow Renewal & Romance Packages available, which include shore-side vow renewals at its private island in Labadee, Haiti.
SeaDream Yacht Club
Features vows renewal ceremony packages accompanied by onboard guitarists and conducted by the captains.
Windstar
Also offer vows renewal packages.
What are the Best Honeymoon Destinations?
Return to Caribbean Cruise Weddings
Return from Renewing Wedding Vows to Caribbean Cruises HomePage