Royal Caribbean Cruises Shore Excursions Feature Variety and Adventure
Royal Caribbean Cruises shore excursions include a variety of great options that are suitable for everyone from the wildest adventure seekers to those looking to laze on the beach all day, relaxing. Wet your appetite with our tips below!
There are plenty of options when it comes to excursions. Those with a sense of adventure will love the various Dominica tours. The beaches of Dominica are covered in black sands, making it a beautiful, but hot destination, not ideal for sunbathing.
Most travelers to the island are in search of adventure. The island is considered the whale watching capital of the Caribbean, and there are also plenty of dolphin watching opportunities. Visitors to the island can sign up for horseback riding trips, safari tours, kayaking, dive excursions, sea turtle watching expeditions, and hiking trips.
One of the most popular hikes leads visitors on an 8-mile trek to Dominica's famous Boiling Lake. This three hour hike will get you grubby, muddy, and dirty, but it will be worth the effort when you reach the breathtaking blue-gray water enveloped in vapor.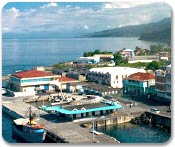 While on the island, you can also stroll through the capital city of Roseau. The town features a museum, an old post office, the Old Market full of crafts, and the New Market which is a Saturday destination for island visitors and residents.
The Botanical Gardens feature an exhibit that is a visual display of a crushed bus, damaged by Hurricane David in 1979. There is also an aviary in the gardens that feature a variety of island birds.
Those in search of the best Caribbean beaches won't be disappointed during their cruise either. Try Shoal Bay in Anguilla for example, where silver sands lead to one of the best snorkeling destinations in the Caribbean. The Beaches of Antigua are plentiful and feature two of the nicest gems in the Caribbean, Dickenson Bay and Half Moon Bay.
Palm Beach in Aruba is a white sand beach that has often made the list of the top dozen beaches in the world. Other beach standouts include Cane Garden Bay, Canouan, and Seven Mile Beach. If your cruise docks near the ports of any of these beaches, be prepared to have one of the most amazing tropical experiences of your entire life!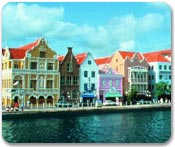 If snorkeling in the Caribbean is your island dream, there are plenty of places from which to choose. Snorkeling is great for those that are not ready to dive, but still want to enjoy the adventure of viewing underwater life. Many snorkeling enthusiasts believe the Caribbean is the best spot to try the sport. The water is so clear it may feel as if you are strolling through an aquarium.
Top spots in the Caribbean for snorkeling include Aruba, St. John, St. Croix, St. Martin, and Curacao. Curacao is home to an Underwater Marine Park that is twelve miles long and filled with millions of colorful fish darting and playing around sunken ship remains.
If you are headed to the Caribbean on a cruise ship, spend some time gathering Caribbean Island facts before your tour. Your Royal Caribbean Cruises shore excursions are an important part of your cruise. Be sure you make the most of your time at sea and in the various ports of call.
Return from Royal Caribbean Cruises Shore Excursions to Royal Caribbean Cruise Review
Return from Royal Caribbean Cruises Shore Excursions to Caribbean Cruises HomePage