Dominica Tours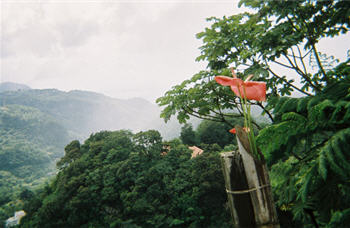 If you don't book Dominica tours, you'll miss out on this beautiful Nature Island and you will be disappointed.
Like I said before, the beaches are few and far from the pier, so you might as well enjoy what this island has to offer and there is plenty to choose from.
Popular spots are:
TiTou Gorge
Trafalgar Falls
Emerald Pool
Fresh water lake
We chose to tour Dominica island with Levi and I was very happy with him. He is a great tour guide, friendly and informative.
There are many tours you can choose from and if you ask (like I did with Levi), your guide might be able to customize the tour to your specs.
Whale Watching should be on your list of Dominica tours as it is the only country in the world where the Sperm Whale resides all year long.
Why not go hiking and discover Dominica on foot? Enjoy some of the spectacular views, waterfalls, and rainforests.
Snorkeling Champagne Reef is like swimming in a champagne glass, bubbles everywhere... a unique experience.
Dominica has earned the reputation as one of the top five dive destinations in the world.
Filming Pirates of the Caribbean 2 and 3 movies
Remember:
Wear your bathing suit and/or bring a change of clothes because you might want to take a dip along the way. Also pack one of those folded rain ponchos, because you might get wet as you go through rainforests, even though the sun is out.
Helpful Websites
Discover Dominica
---
See more Dominica Island Photos here