The Pearl
by A. Antonio
(USA)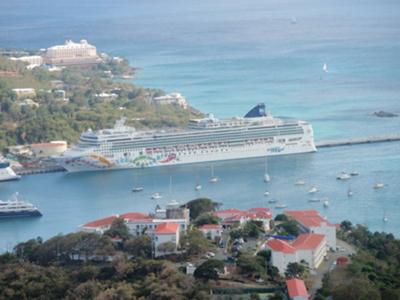 The Norwegian Pearl in St. Thomas
The Caribbean cruise my friends and I took last month was the best vacation I've ever had. We sailed on Norwegian Cruise Lines aboard the Norwegian Pearl for 7 nights. The cruise left out of Miami and we visited the Dominican Republic, US Virgin Islands, British Virgin Islands and the Bahamas.

Not only was this cruise special because it was the first one I've ever been on, but it was my senior year Spring Break trip. At our first stop in the Dominican Republic we had an excursion booked through the cruise line where we were taken aboard a smaller boat directly from the ship and whisked away to a private island where we enjoyed the warm sand, water and specialty coconut drinks!

The US Virgin Island and British Virgin Islands were much safer and we were able to get into taxis and go to the nearest beaches for the day. The secluded beaches in both of these destinations were unbelievable and the views from all over the island make the beach trips even more worth it.

Our last stop in the Bahamas was a relaxing day, as Norwegian Cruise Line took us to their own private island, Great Stirrup Cay. The cruise line had activities, food and drinks on the island and it was a great way to relax on the last day before heading back to Miami.

The most memorable thing was just laying on the beach and soaking up the Caribbean sun at all of the beautiful destinations and getting to know all the different people we met.

For first time cruisers, definitely go on a cruise line that has "freestyle cruising," this allows you to eat whenever you want, wherever you want and sit anywhere. There are no times that you have to eat dinner at and at a table with people you don't know. The freestyle aspect of the cruise really made it the trip of a lifetime because the ship was at our disposal for anything we wanted to do at any time!
Join in and write your own page! It's easy to do. How? Simply click here to return to What Was Your Best Caribbean Cruise?.