Royal Caribbean Europe Cruises are a Great Way to See Different Countries
Royal Caribbean Europe cruises allow cruisers to explore areas that may not be thought of as traditional cruise destinations. Their unique Cruisetours programs offer the time and opportunity to tour inland of the coastal regions of Europe, really giving cruisers a chance to explore various European destinations.
Unlike Transatlantic Europe cruises that just touch in ports of call for a few hours, the Cruisetours offer so much more than cheap cruises to Europe. These experiences are educational, affordable, enjoyable, and a great way to explore cities in Europe.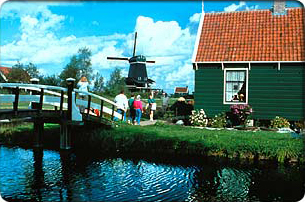 A cheap Europe cruise can be an adventure for travelers and still allow you enjoy your destination. Cruisetours combine the experience of a cruise with the chance to enjoy the local flavor, culture, scenery, and history of a city. Once in port, you will travel by motor coach or train to a variety of destinations in your chosen city.
The Royal Caribbean International cruises visit the most popular destinations in Europe including Madrid, Paris, Barcelona, London, Venice, the Italian Lakes, Florence, and Rome. Cruisers can enjoy the sun setting behind the Paris skyline or party in Madrid, known as the Spanish city that never sleeps. Dine on fish and chips in a London pub, a plate of seafaring paella in Barcelona, or sip a latte in a Paris cafe.
From Notre Dame Cathedral to the Arc de Triomphe, to Piccadilly Circus to the Sistine Chapel, you will get to see all of the most popular European destinations. Watch the short video below to get a taste of all available destinations.
Cruisetours are typically ten or more nights, giving you plenty of time to explore your destination city. Wander beyond the port of call and really get to know the city. Choose your country and prepare to spend a few days in each of its most popular cities soaking up the culture.
Unlike traditional Royal Caribbean cruises that head toward the sun and sand, Royal Caribbean Europe cruises will require some planning when it comes to packing your bags. Be sure to bring comfortable walking shoes for exploring the sights of the destination city. You can dress comfortably onboard ship, but some prefer formal attire for evening meals.
Remember there may be a dress code for many of the museums and cathedrals in Europe, so bring comfortable, conservative clothing like shirts with sleeves and long pants.
Temperatures can dip low in the evenings, requiring a jacket or woolen jumper, and you may want to pack an umbrella just in case.
Many of the ships offer shopping opportunities on board and you can pick up items in the destination cities, but it may mean spending a bit more than if you had brought enough clothing from home.
If you are in search of a cruise opportunity that is out of the beach side norm, consider cruising to Europe. Cruises are an affordable, fun way to visit Europe. And who knows, perhaps after the first European cruise adventure, you might want to come back and try a a Europe barge cruise?
Return from Royal Caribbean Europe Cruises to Royal Caribbean Cruise Review
Return from Royal Caribbean Europe Cruises to Caribbean Cruises HomePage