Embarkation at Port Everglades
(Written while sailing the Caribbean Sea)
NOVEMBER 10, 2008
We took the 11:30 shuttle from the hotel and arrived at the port around 11:45am. Since we are now Platinum members, we were allowed to use the special entrance and we were directed to the registration desk while others have to wait. I love being a VIP!
We were on board around 12:10 and our cabin was ready so we unpacked and went for lunch at 1pm.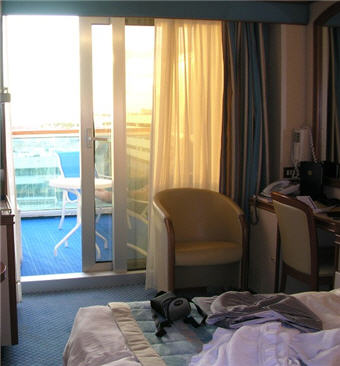 Our cabin is C235 on deck 10 Caribe. It is nice and has a beautiful big balcony, almost double the ones from other decks, as deck 10 is the only one with such big balconies, except of course the suites.
TIP: always leave home the day before as you get on ship earlier and can enjoy the day. Almost adds a full day to your cruise.
After dinner, my husband watched Monday Night Football on the giant outdoor screen under the stars while I strolled the shops and went to the Welcome Show.
Next: First Day of Cruise