Cruising the Caribbean Sea
(Somewhere in the Caribbean Sea)
November 12, 2008
Another lazy day at sea enjoying our balcony, the sun, my free internet.
There was a $10.00 sale and I bought a watch.
We decided not to go to the dining room for dinner but try the buffet instead...totally enjoyed the freedom.
After we went to the Movies under the Stars and watch "Hancock". All I can say is WOW!
Sitting on a cushioned lounge chair, a gentle breeze in our hair, munching on popcorn while watching the big screen! What more can a girl want?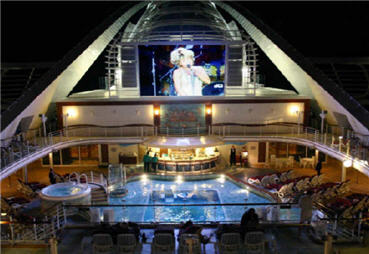 After the movie went back for our dessert and coffee and took in a show.
Next: Snorkeling in Aruba