Is it possible to find cheap cruises in the Caribbean?
Absolutely! Follow my system and I'm sure you'll find cheap cruises to the Caribbean, as I have done for our last 20 or so cruises. It works great and makes my husband happy (he's paying)!
Steps in that order
Step 1: let's see who goes where for your time frame. Go to BookIt to first do some research. After entering the info in the search box, you will be given a list of cruise ships, with the itineraries and "from" price for each category.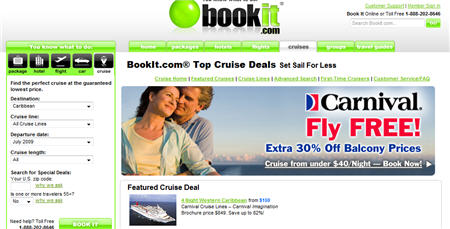 On a piece of paper, write down the ships you are interested in as well as the ports visited.
Step 2: Now you are going to Cruise Critic Ship Reviews. In the box for ship reviews, find the ship you are interested in. On the next page, scroll down a bit to find the Ship's Ratings and a link to Member Reviews of that particular ship.
Taking into consideration that not everyone has the same taste or requirements, get a feel of the ship through these reviews. Then come back here.
Step 3: Come back to BookIt and search again for the ships you still would want to sail on.
Now we want to see which cabins are available and what price the whole cruise would cost us.
Once you Select a ship, you will see a page similar to this one below, full of information like description of staterooms (cabins), activities, reviews, etc.
Now scroll down to Select your Sailing Date and click on the "select button" for the sailing date you want. Don't worry, you're not going to book it now. Fill out the information requested and hit "Continue" at the bottom.
The next page will ask you to choose a room type, interior, oceanview, balcony or suite and then the category. Click the select button beside what you want.
You'll see an image of that deck and find flashing green sqares because those are the cabins available.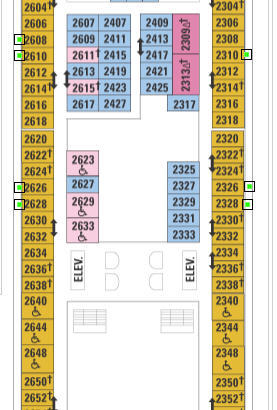 You can also see on the right the exact total of the cruise package.
Step 4: You'll want to know if you have found the cheapest cruise package. So visit and call Vacations To Go or the cruise line directly or ask your local travel agent.
Step 5: Now it's time to reserve. Equipped with the name of the cruise line, ship, departure date, number and names of passengers, you have a choice; will it be BookIt online or by phone at 1-888-202-8646? Or will it be any of the others mentioned above?
If you have sailed before on the cruise line you have chosen,don't forget to tell whoever you book with, that you are a past passenger because sometimes cruise lines have special cheap cruises especially for you.
Once you have all that done, you might want to check out the ports of call at Cruise Critic to read what others are recommending for activities.
Happy Sailing!
Return to Cruise Articles, Insider Secrets and How-To's
Return from Cheap Cruises to Caribbean Cruises HomePage