Let's Take a Look at Caribbean Weather Forecasts
We live in Quebec, Canada and when we go on a cruise, usually at the end of November or during the Christmas Holidays, the weather here is pretty miserable. So you can understand that I don't need to look at Caribbean weather forecasts because I know the weather will be a great improvement!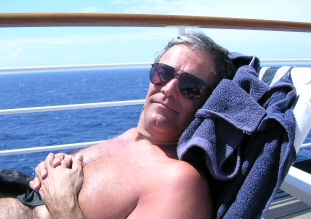 My husband enjoying the sun deck
Some like it hot...I don't! I can't tolerate hot weather but my husband on the other hand can spend his whole day in the sun, sweating it out!
So why do I love cruising the Caribbean then? Ah! the difference is the sun and the trade winds. I can get a tan without suffering especially on a sea day while the ship is sailing.
Did you know that Southern Caribbean has the most stable and predictable weather? It's because the trade winds blow steady and strong here, exactly the kind of weather I like. Remember my advice on the Caribbean hurricane season page to Go South? Well maybe that will convince you.
Winters in the Caribbean are usually less humid and breezier; ideal beach conditions don't you think? Caribbean weather forecasts will show that temperatures never go above 100 degrees Fahrenheit, and rarely go below 60 except in the mountains of Cuba and Jamaica.
It's such a treat for us to not have to worry about the weather forecasts like we do at home. The weather in Quebec is probably the most popular topic of conversation. But the Caribbean weather is pretty stable all year round. You should expect temperatures in the 70s and 80s pretty much everywhere.
As far as rain is concerned, you'll find that mountainous islands like Jamaica and St. Lucia get more rainfall. Dominica with its rain forests get more than 300 inches of rain annually. But that's ok cause there are no beaches near the port so a tour is your best bet on this Nature Island.
May to October tend to be the wettest months in the Caribbean.
Let's check the Caribbean weather forecasts using this cool weather tool. Using the scroller, move down below the colored map to the yellow world map. Click on North American in the bottom part under Select a Region, then using the drop down menu, click on the country you want and then the city. You'll get a 3-day forecast and some maps.