20 Cruises in the Caribbean
by Lise Galipeau
(Hudson, Quebec, Canada)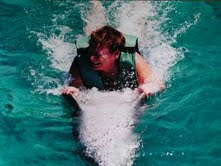 Swimming With Dolphins
It's now January 2010 and since we have been on 20 cruises in the Caribbean, I have to say that not one in particular can be titled 'our best Caribbean cruise'.

Instead a combination of different highlights of those cruises come to mind and I would like to share those with you.

Holland America: We love the service and their specialty: "bread pudding", yummy...

Princess: Our favorite cruise line, we very much enjoy the service, the atmosphere and the ships and the "Movies under the Stars", very impressive.

Our first balcony: our first cruise was in 1992 and it was only in 2003 that we booked our first balcony on the Grand Princess, a memorable moment as it was pretty big and I told my husband, I was now spoiled for all other cruises.

Swimming with dolphins: a lifelong dream of mine was to swim and touch a dolphin. I love those animals...I even have a dolphin tattoo on my shoulder! It was in Cozumel that I had the opportunity and it was fantastic.

Port of Curacao: still remember the first time our ship slowly made its way through the short canal with colorful buildings on each side and people waving at us.

The beaches: 7 mile beach in Grand Cayman, Sapphire beach in St-Thomas, Arashi beach in Aruba.

Snorkeling: to this day I will always remember our excursion to Trunk Bay on St-John and that was a long time ago. Beautiful.

All the great sunsets we witnessed and photographed.

One excitement that never goes away: leaving the ports of Miami or Fort Lauderdale and all the people from the condos waving and making noises. Also arriving or leaving all the other ports, fascinating.

There are a lot more fond memories and I could go on and on for many pages but I should let others put a word in.

If you have never been on a cruise, I encourage you to try it but be prepared, you might get hooked like we did!
Join in and write your own page! It's easy to do. How? Simply click here to return to What Was Your Best Caribbean Cruise?.